Coronavirus Notice:
The AHA office is open by appointment only. Emails and phone calls welcome.
Arcadia Housing Authority
Arcadia, Florida
Serving the Community One Family at a Time
Our Mission:
To provide safe, affordable housing to low-income families as they strive to improve the quality of their lives and the community.
Objectives:
Provide decent, well maintained housing, free from drugs and violent crimes
Provide and create quality housing opportunities in DeSoto County
Insure equal opportunities in housing free from discrimination
Provide opportunities necessary for residents to achieve self-sufficiency and to be productive members of the community
What We Do:
Arcadia Housing Authority provides housing opportunities through the Public Housing Program.
Public Housing was established to provide decent and safe rental housing for eligible low-income families, the elderly, and persons with disabilities. Public housing comes in all sizes and types, from scattered single-family houses to high-rise apartments for elderly families. The U.S. Department of Housing and Urban Development (HUD) administers Federal aid to local housing agencies (HAs) that manage the housing for low-income residents at rents they can afford.
AHA, established in October 1962, administers 130 units with locations at: Harris Road, Booker T. Washington Road, 10th Avenue, 11th Avenue, Hickory Street, S. Orange Grove, Friendship Court, Harmony Drive, Pleasant Circle and S. Dade Street. Housing accommodates elderly, disabled and multifamily.
HCV (Section 8) program vouchers are not accepted.
Housing applications are accepted by appointment only at the office Monday – Friday 9am-3pm. Please call our office to schedule your appointment: 863.494.4343
Services and Area Information:
The City of Arcadia in DeSoto County is centrally located between Orlando, Ft. Myers, Sarasota and Lake Okeechobee. Arcadia is famous throughout Florida for its historic downtown antique district. Annual events include the All-Florida Championship Rodeo in March and Watermelon Festival in May. The Arcadia Parks Division maintains six parks that provide walking paths, playgrounds, picnic areas, basketball courts, baseball/softball fields and more.
DeSoto County School District is comprised of six schools serving students Pre-K – 12th grade.
The DeSoto County Library provides user-oriented services to all citizens. Services include books, magazines, audio and visual materials. Also provided are public computers with internet service and a children's computer center equipped with educational games.
Arcadia HA's Community Center is utilized by our Housing Authority as well as other area Agencies - like the Boy's & Girl's Club and Salvation Army - to provide Arcadia Residents "at home" services.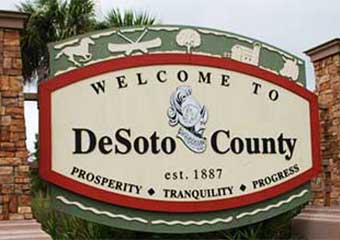 Coronavirus Notice:
The AHA office is open by appointment only. Emails and phone calls welcome.
Domestic Violence Protections:
The Violence Against Women Reauthorization Act of 2013 (VAWA 2013) expands housing protections for victims of domestic violence, dating violence, sexual assault, or stalking. Changes under VAWA 2013 include extending protections to survivors of sexual assault; allowing survivors who remain in the unit to establish eligibility or find new housing when a lease is bifurcated; providing survivors with emergency transfers; and additional notification to applicants and tenants of housing rights under VAWA. While these changes substantially extend VAWA's coverage to include most affordable housing programs, they provide no protection to tenants in private market-rate housing but do apply to tenants with vouchers in private market-housing.
AHA will provide all protection under VAWA 2013 to program participants and family members of program participants who are victims of domestic violence, dating violence, sexual assault or stalking from being evicted or terminated from housing assistance based on acts of such violence against them. Learn more about VAWA here.
No Smoking Policy:
Arcadia Housing Authority (AHA) buildings, rental units, and all property are smoke-free. Smoking includes inhaling, exhaling, burning, or carrying any lighted cigar, cigarette, pipe, or other lighted smoking device. This also includes the use of E-cigarettes, vapor emitting devices, and hookahs.
Elf Town sponsored by Eckerd Connects. AHA Staff pictured L to R: Juanita Lewis-Ross, Office Manager; Yaletza Washington, Property Clerk; Hope Cross, Supervisor Eckerd Connects; Becky-Sue Mercer, Executive Director; Debbie Lucas, Property Clerk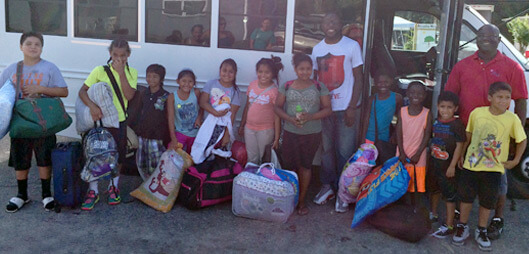 Salvation Army Summer Camp 2019

City of Arcadia Marshall Matt Anderson serving lunch at Summer Break Spot. Summer Break Spot provides free meals for children.

Arcadia youth presented driver of Sprout Route truck a picture of apples. Sprout Route is sponsored by All Faith Food Bank.